With over 15 years of experience in the health and wellness industry, Kayleigh Westgarth is a fully trained masseuse, beautician, and yoga teacher. Having qualified in massage and beauty straight out of school, Kayleigh began her career working in the luxurious spas of cruise ships and hotels around the world. As well as a stint at the prestigious Celtic Manor spa in Newport during the 2010 Ryder Cup, Kayleigh has also been hired as the masseuse for high-profile athletes.
In 2011, Kayleigh joined her first superyacht and has since worked on board some of the most prestigious superyachts in the world, garnering a wealth of experience along the way. "As yachts increased in size and spas became an increasingly important part of the guest experience, I progressed from spa therapist roles to spa management roles," Kayleigh says.
Working on board a wide range of superyachts, Kayleigh gained valuable insight into the different onboard spas from an operational perspective, which provided her with a continuous stream of information about the latest products, treatments, and equipment. With each yacht she joined, however, Kayleigh also found the same intrinsic problems with the wellness suites on board. "My experience of onboard spa use and guest requirements helped me identify gaps in the market in terms of design and layout, as well as guest needs and the needs of the spa therapist," she adds.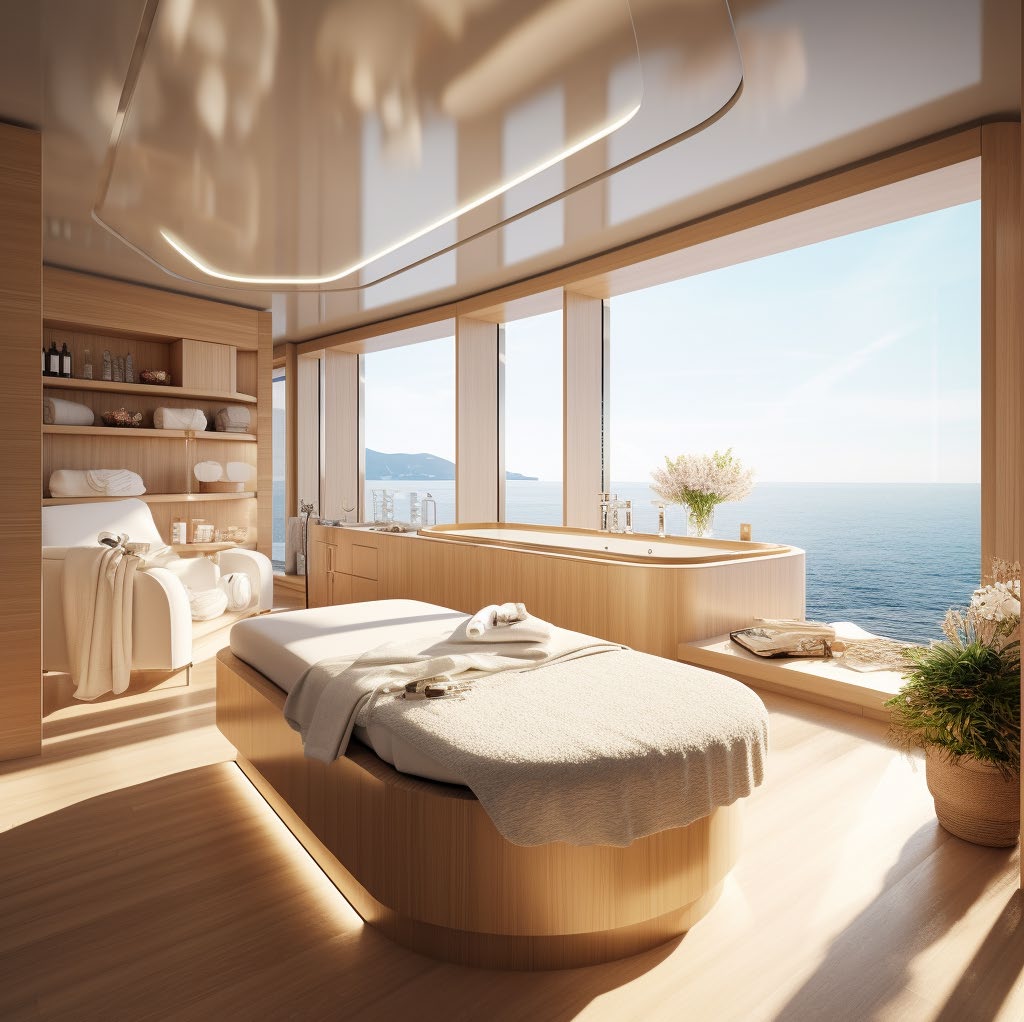 In recognition of her expertise surrounding the operational practicalities of superyacht spas, Kayleigh was scouted to help with the design and set up of the spa on board the largest charter yacht in the world. Joining the project during the build, Kayleigh worked closely with the owners and interior designers to transform their vision for a state-of-the-art spa into a functioning reality.
While this project was an immense success – lauded today as one of the best superyacht spas in existence – Kayleigh still felt that she could have added more valuable input if she had been consulted earlier in the design phase. Thus, it was this experience that drew her towards spa consultancy. "So often, the operational aspects of a spa are not given enough consideration, because often there isn't anyone with that hands-on experience involved in the design and set up," Kayleigh explains. "I wanted to start spa consulting so that I could be involved early enough to make the necessary changes that would make these wellness spaces run smoothly."
Kayleigh has spent the last few years consulting on the spa design and set up for various new build projects. Throughout all these projects, her passion for massage has shone through. As well as her background in spa and beauty treatments, Kayleigh is also trained in sports and remedial massages and can offer advice on the different bed types required for this field. "I help clients blend both offerings seamlessly to achieve a full treatment range while maintaining that relaxing spa ambiance," she adds.
Having founded Coral Spa Consultants alongside Gym Marine Yachts and Interiors in 2023, Kayleigh and her team are available to assist clients throughout the spa design and set-up phases and beyond, from equipment specification to delivery and installation, through to product and treatment suggestions, as well as providing ongoing training to the spa team.
"I am, and always will be, a spa therapist," Kayleigh concludes. "Creating beautiful treatment experiences for guests has always been my passion, but to do that I need to be in a well-thought-out treatment room. I bring my hands-on experience to each project so the spa therapists can achieve the same. Whether it's a single treatment room or a more extensive spa suite, I want guests and therapists alike to find sanctuary in the space."